Welcome To
Riebesehl Family Law Offices
Riebesehl Family Law Offices
1993

S. Frontage Rd., Suite

107
Sierra Vista, Arizona

85635
(520) 559-2925
We Offer Virtual Consultations & Appointments!

Gregory A. Riebesehl
Attorney at Law
1993 S. Frontage Rd., Suite 107
Sierra Vista, Arizona 85635
Fax (602) 916-1129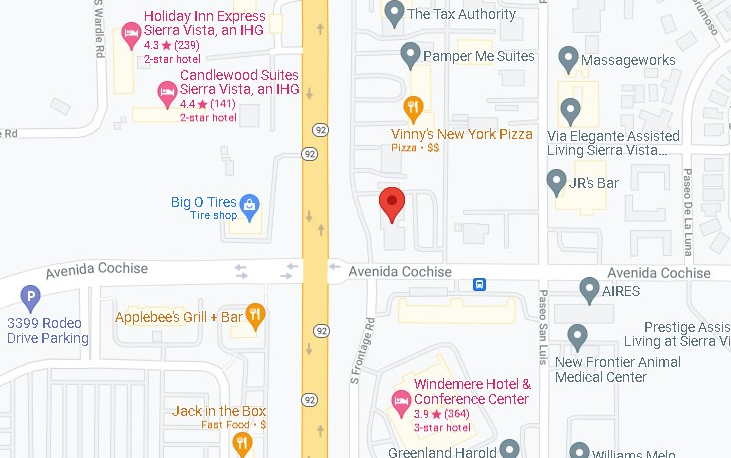 Call

(520) 559-2925

 for your

FREE

initial consultation

TODAY!!!
Welcome to Riebesehl Family Law Offices. Family law issues are complex and difficult to understand. To add insult to injury, family law problems are emotionally gut-wrenching. We understand. Mr. Riebesehl went through a divorce himself and knows how difficult this time in your life can be. However, we can help. We take pride as a close-knit family law firm, dedicated to personal service and excellent results. Our hope is that you will be so happy with our services, that you will refer your friends and family to us. That is simply good business. We will never "churn" your case, or make false promises. Come and join our family circle, and let us walk you through the fires of Arizona family law.
Mr. Riebesehl is a Sierra Vista divorce attorney, that has been practicing exclusively in the area of family law in Arizona for over 30 years, with an excellent record of success.  In fact, he is a second-generation divorce attorney. His late father was likewise tops in his field in New York. This career has been in his blood from birth. Mr. Riebesehl believes that service to others is life's highest calling. He genuinely loves to help people through their problems.
Mr. Riebesehl's approach is both unique and effective, and the result of a lifetime of study of not only the law but of human psychology. Mr. Riebesehl earned his college degree in psychology before he attended law school. He has always been fascinated by human behavior, and what makes people do the things they do.  Very few attorneys have this combination of a degree in psychology and law. His background not only will help you through this terrible time, but it also generates results and is remarkably cost-effective. Mr. Riebesehl's fees are thousands less than the exorbitant fees charged by many other family law firms. Hundreds of clients just like you have received the compassionate services and excellent results they needed. You will as well. Come visit us for a free consult. You will be glad you did. We are your Arizona divorce source.
We handle all areas of Arizona family law, including:
Arizona Divorce
Arizona Custody & Parenting Time Issues
Emergency Custody Petitions
Relocation Issues
Property/Debt Distribution
Arizona Paternity Cases
Alimony/Spousal Maintenance
Modification of Existing Orders
Enforcement of Existing Orders
Contempt
In Loco Parentis Issues
Adoptions (Step-Parent Adoptions)

For legal advice about your case, contact an attorney.  Unfortunately, if you represent yourself, by law, the Judge MUST assume you are as familiar with family law and procedure as an attorney.  You do not have a second chance, so make sure you present your best case the first time. Call Gregory A. Riebesehl at Riebesehl Family Law Offices and let him represent you through the court process to a successful outcome at (520) 559-2925.
Call Gregory A. Riebesehl today for your free no risk completely confidential initial consultation and a speedy solution to all your legal problems at (520) 559-2925
We Are Conveniently Located At:
Riebesehl Family Law Offices
1993 S. Frontage Rd., Suite 107
Sierra Vista, Arizona 85635
Phone: (520) 559-2925
Facsimile: (602) 916-1129
Email: [email protected]
Copyright © 2001-2022 Riebesehl Family Law Offices
The information on this website is for general information purposes only. Nothing on this site should be taken as legal advice for any individual, case, or situation. This information is not intended to create, and receipt or viewing does not constitute an attorney-client relationship.
Don't miss out on future informative newsletters full of Arizona family law news and our divorce how-to e-booklet!
Let's Be Social!